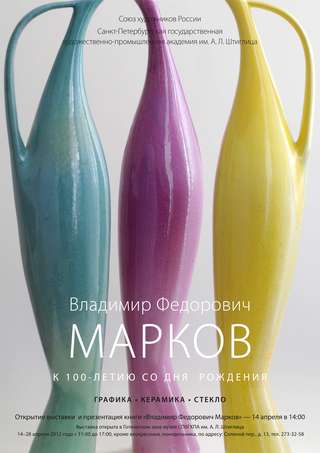 Download the book (in Russian) 
Exhibition "Vladimir F. Markov". 2012
An exhibition "Vladimir F. Markov" was organized on the occasion of the 100th anniversary of his birth.
The eminent artist, architect, teacher, awarded with the title of the "Meritorious artist of the Russian Federation", professor Vladimir F. Markov during more than 30 years (1953-1981) hold a chair of Pottery and Glass department of the Mukhina Higher School of Art and Design. During several years in parallel with being head of Pottery and Glass department he was Deputy Director of science and education and Deputy Director of education and production of the Mukhina Higher School of Art and Design. Due to his leadership a unique Leningrad school of ceramics and glass of the 1960s through1980s was founded.
As an artist Vladimir V.Markov significantly contributed to the development of Russian and world decorative and applied arts.
Born in St.Petersburg he was enamored of his native city and its architecture. Being encyclopedically educated in different fields of culture and art, he became one of the eminent figures of the art education in the former Soviet Union. He was an author of programs and guidance materials that are in use still today in higher art schools of Russia and abroad.
Markov had not only a solid artistic education, but also a profound musical background. Music inspired him all his life. That's why it seems that his ceramic works "sing" due to their flowing melodic lines and rhythms.
His artistic heritage is characterized by an extraordinary integrity and diversity. It can be conveniently divided into three periods related to 1950s, 1960s and 1970s. Each decade has its own intense features, which show his attitude towards decorative and applied arts. At the same time he always remains true to himself, to his "self" of an architect.
In 1950s foundations of his artistic mindset were laid. Aiming to prove an affinity between decorative and applied arts and architecture Markov pays special attention to mass production patterns. On the basis of an ensemble principle he creates sets of crockery as architectural, artistic and "urban design" compositions, in which all elements form a harmonious unity.
However, he turns not only to a classical heritage, but to a wide range of the world art (decorative composition "Africa").
Markov's discoveries of the late 1950s through 1960s are related to local democratization processes, which influenced soviet decorative art. Ideological ornamentalism and false fanfares were replaced by "severe style", geometrical forms, muted palette, graphics, and clearness of design. The artist starts to speak a new language: line, silhouette, laconic color palette.
In 1960s Markov opens a new page in ceramics art. A visual thinking transforms a vessel into the means of expression of metaphysical and philosophical ideas; it acquires functions and purposes of the easel art.  At the same time a narrative element gains more importance (decorative composition "Family", "Cosmos").
The works of 1970s become a logical result of his artistic evolution. It is time when local culture turns to the national heritage, and an interest in a human being increases. Artistic forms are getting more spiritualized, compositional principles become more sophisticated. It was the most fruitful period of Markov's oeuvre. At this time he creates ceramic works, which form part of the golden collection of the decorative and applied arts – the vessels "Black and White", the vase "Shell" and the decorative composition "The Trinity".
Although since early 1950s Markov's works were recognized at domestic and international exhibitions, there was no solo exhibition during his lifetime. Only after his death three solo exhibitions were organized principally due to the efforts of his former students.
Nowadays one can find his the works in St.Petersburg and Moscow museums. This exhibition presents mainly the works from Markov's family private collection and from the Stieglitz Museum of Decorative and Applied Arts.
 K.F. Sofiyna, Fine art expert, member of the Russian Union of Artists